Technical Support

AQUASEAL®
Order
How to measure the length
Single-Seal


(One end closed)

W-Seal


(Both end closed)

Closed-end
(Both end closed with 2
sliders back to back)
Open End
Two-way
Separator
Maximum / Minimum Order Length
Size
Closed End
Open End
Two-way
with 1 slider
with 2 sliders back to back
Single Seal
W-Seal
Single Seal
W-Seal
5VFWN
18.5cm - 10meter
(7.25inch - 32.8ft)
19cm - 10meter
(7.5inch - 32.8ft)
20cm - 10meter
(7.75inch - 32.8ft)
20.5cm - 10meter
(8inch - 32.8ft)
19.5cm - 10meter
(7.75inch - 32.8ft)
20cm - 10meter
(8inch - 32.8ft)
10VFWB
15cm - 10meter
(6inch - 32.8ft)
15.5cm - 10meter
(6.25inch - 32.8ft)
17cm - 10meter
(6.75inch - 32.8ft)
17.5cm - 10meter
(7inch - 32.8ft)
16cm - 10meter
(6.5inch - 32.8ft)
17.5cm - 10meter
(6.75inch - 32.8ft)
Smart use of zippers
Slowly move the slider when operating. Angular pulling may cause element mis-engagement and may result in
poor waterproof performance or damage zippers.
If the slider should jam during closure, DO NOT FORCE IT. Pull back the slider, remove the obstruction and slowly attempt to close it again.
Excessive force may destroy the fastener.
Overstretching of the top and bottom stops should be avoided.
AQUASEAL® zipper is sensitive to UV degradation, creasing, and de-lamination and wear through friction.
Folding or crushing the zipper may affect its performance.
YKK does not recommend the use of this item on walking water balls, or similar items.
YKK will not provide warranties or accepts no liability for such use.
Cleaning
Regular cleaning with fresh water and use of a suitable lubricant is advised in order to prevent damage to the tape and seals.
For lubrication, please take a look at the maintenance section.
Do not dry clean or machine wash.
Maintenance
After cleaning the zipper, we recommend the application of either a lubricant or paraffin wax to maintain the proper waterproof performance.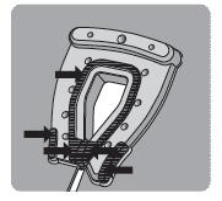 Please see the instructions below for each zipper type.
For the W-seal (Closed-end) application,
1. Apply the lubricant to the top-seal as indicated in the diagram.
2. Apply a small amount of paraffin wax along the zipper elements.
For Single-seal or Open-end applications,
1. Apply paraffin wax along the zipper elements.

*Do not directly apply the lubricant on the zipper's elements.
Installation Guide
Method
Caution
Sewing
Normal sewing in combination with seam tape.
Welding
Direct welding will depend on material compatibility, welding equipment and setting.
When applying heat pressure during attachment, damage to the tape and elements should be avoided.
Gluing
Gluing will depend on the compatibility of fabric, zipper tape and glue. Please test before production.
Storage
Please do not fold or bend the zippers when they are stored.
Please do not store the garment/goods under the circumstances where it will be over 60°C (140°F).
Store with the zipper completely closed, taking care not to bend it. The storage in an opened position for long period will cause zipper bending.
If this occurs, slight leaks are possible.